It was inevitable really, and only a matter of time before I ended up here on the C.V.R.D.A.
The name's Dave, single Dad to two young lads and not quite land-locked in sunny Coventry (?)
20+ years ago my brother and I decided we'd had enough of the city routine and that the pull of sail was too strong to resist. To that end we encamped in Weymouth to do our RYA Day Skipper tickets as the sine qua non to a life afloat. The theory bits took place above the Old Harbour dive centre and it triggered all my childhood fascinations with the subaquatic world, Cousteau's Conshelf, the plates and engravings from a leatherbound copy of Diving & Submarine Operations by R H Davis flashed before me and that was it. Bro went off to become a delivery skipper and I took the professional PADI diving instructor route.
Back in March I casually mentioned to the boyos that I was thinking of getting us a small dinghy or keelboat and asked them if they fancied a bit of sailing this Summer? They've been hopping up and down at the prospect ever since. Heart ruled head with the first acquisition; an old (off-Bay) Osprey that defied the owner's assurances that I could "…put it on the water this Summer and do the cosmetics over the Winter, no bother…" Upshot was that a life of hard sailing against the Severn Estuary tides combined with poor storage has left it with sodden bulkhead frames and panels both fore and aft and she's now under cover and nicely dried out ready for work to commence. Truth be told I just fell for the lines on it, I mean just look at them, phwooaar... eh.. eh!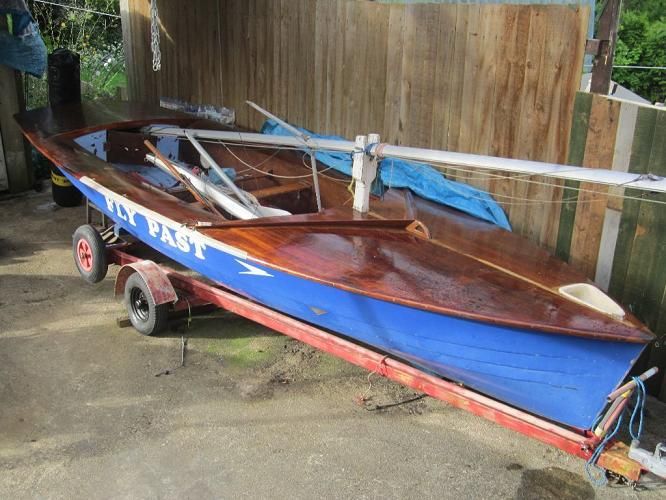 hmmmm.... OK not the end of the world.
...and at the stern...
Deck ply is beyond repair and those sections that haven't delaminated are 50% epoxy filler. S'all doable.
None of it gets us on the water so… it was back to the auction and boatyard listings, Not in the least bit interested in FG boats – gotta be timber – patience… patience… – finger hovering over the BID NOW button – nah not that one; transom's scrap – and then… Lady Luck gave me one of her all too rare sideways glances and with a saucy wink said "Today, I choose… YOU".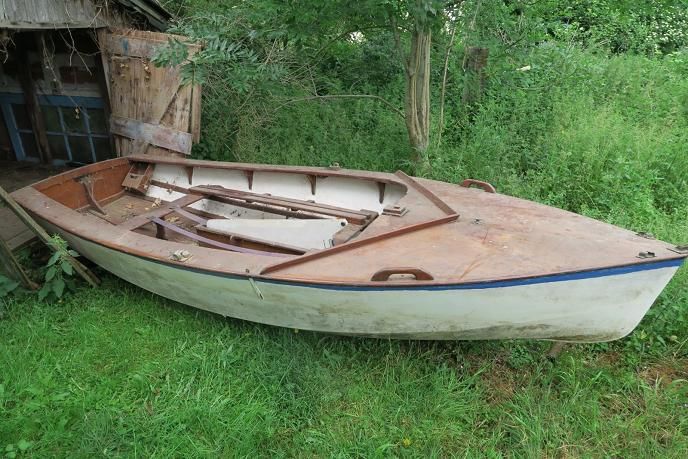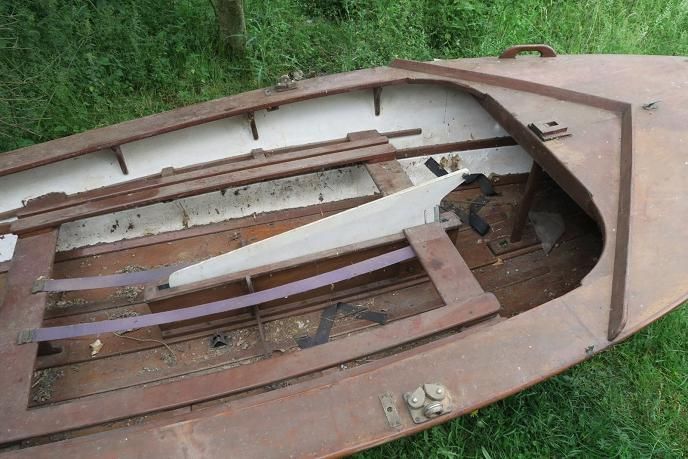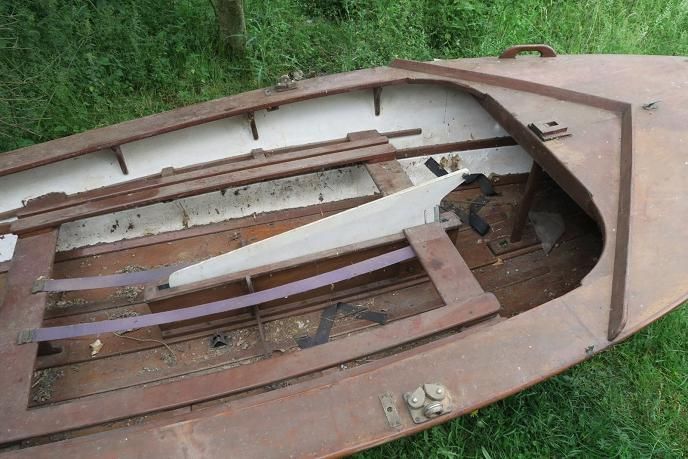 The classic genuine textbook "barn find"; a very early Enterprise (no.878), with its docs, no interest so far, no watchers, no bids? Hmmmmm… what's wrong with it apart from no trailer? Time to pm the seller I think because the zoomed up hull pics told more than the dilapidated backdrop would suggest. Underneath the cobwebs, wind blown leaf detritus and mouse dung it looked fundamentally to be in superb condition. Telephone calls ensued which confirmed that it was indeed grot not rot in the seams, dry stored for 30 years. No trailer though (long since reduced to a pile of ferrous dust), no trolley either.
The Osprey's custom built road trailer had ancient 3 stud hubs and the wheels were more Hammerite than steel and How the hell it managed the 80 mile trip up the M5 I'll never know. Thus followed an epic 4 week stem to stern trailer refurb/adaptation during which every single component got renewed. And every single one of which proved a right royal recalcitrant pain in the arris. In the end I was even lathing up, boring out and shrinking fitting bronze spacers/oil seal lands onto the stubs to make modern 4stud hubs play nice with my old axle spindles. (0.001" undersize for a 1" spindle : 20 mins @ gas mark 5 works a treat btw)
£200 squid and Enterprise no.878 is back in the warehouse and work has started on giving her the twice over and a fresh hull paint.
First impressions have been justified, (both on the minty condition of the Ent and the purposeful beauty of an Osprey's lines).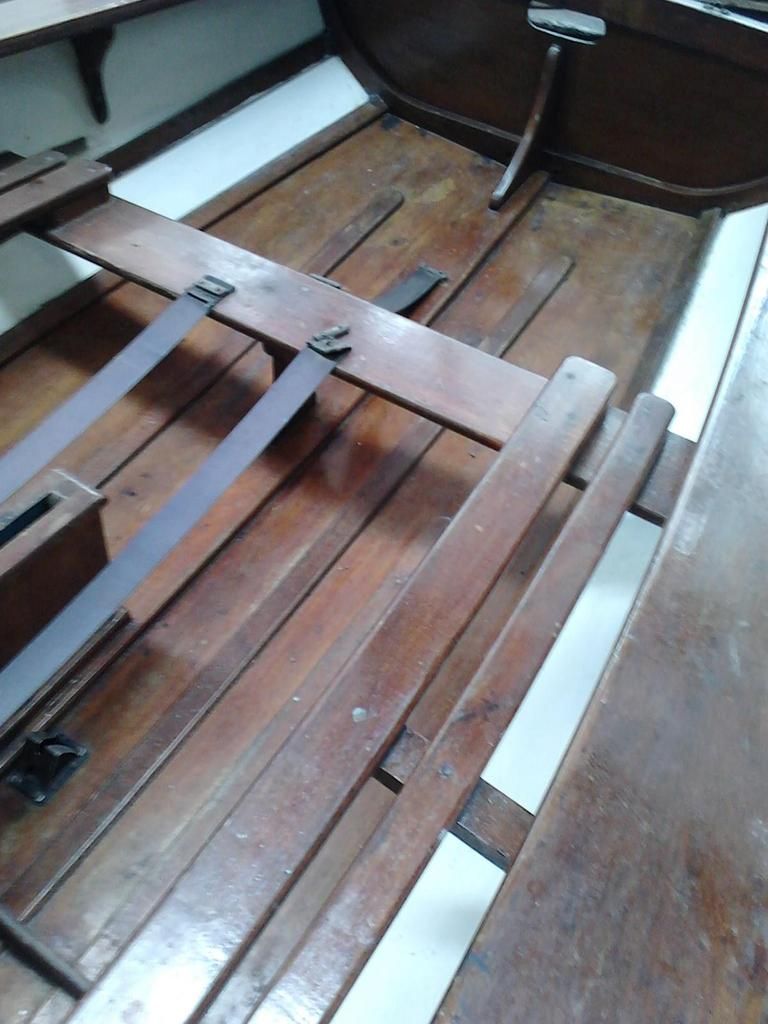 Honestly I can't find a thing wrong that I didn't expect and it all seems tight as a drum. Built by a master carpenter from a Bell's kit and rigorously maintained, a one family boat from new, she's never even been named. Even got the two original and beautifully made curved plywood hand bailers! She survived the trip back from Somerset without damage, no seams opened up, not even a crack in the paint where the pads bore against the hull. Spruce mast (the top foot of which has evidence of woodworm exit holes) and boom, every deck and spar fitting is (heavily patinated) bronze.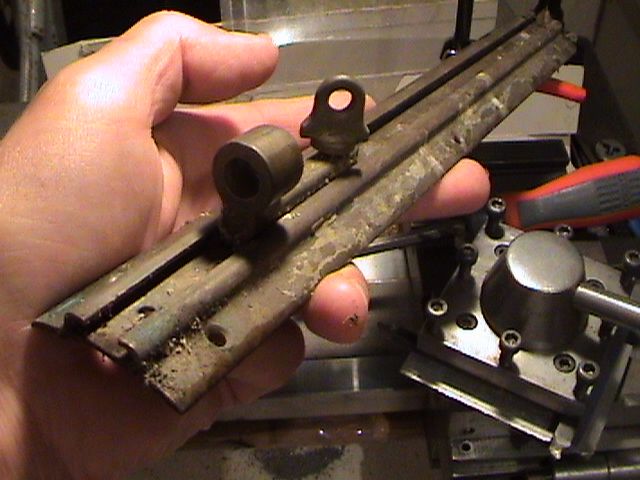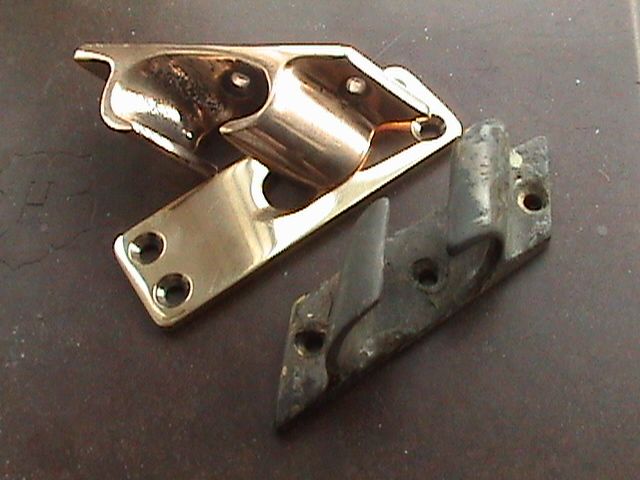 All this boat needs is a few tins of elbow grease. a few hundred quid more and 'me hearty crew' ready to pitch in and learn how a sailing dinghy goes together and more importantly how you can, analyse, dissect a problem, formulate a plan and then actually FIX things rather than chuck them away.
I can't think of a more engaging and comprehensive learning opportunity. If I can do nothing more for them than embed that ethos I'll be a happy man and this as yet un-named dinghy (it's only ever been known as "The Boat") will have served its purpose, proved its worth and earned its keep.
Can't hang about with this as I want the boys to have a Summer introduction to sailing rather than a chilling windy Winter one; plenty of time to 'harden them off' as it were.
Most of my tooling though is lathe/milling/precision oriented so I've had to invest a few quid in timber kit the best of which was the M*chine M*rt heat gun.
The existing paint was well adhered but lifted beautifully with a few seconds heat applied and the timber underneath is sound as a pound. With the evidence of its effectiveness right in front of me and the ease with which it can be removed when necessary the decision was made there and then to stick with single pack finishes rather than fanny about with epoxies.
A stop-gap alloy mast and boom have been sourced along with a set of reduced 'cruising' sails to mitigate against the lightness of me hearty crew and my inept helming. The last thing I sailed was a Bavaria 37 and things happen a lot more quickly in a 200lb dinghy. As for the Osprey, I think I've got a bit of a tiger by the tail there but it's gonna be bloody good fun that's for sure!! I'm not particularly into racing but if the lads ever fancy their names on a bit of silver they'll have the tool to do it in. The youngest is a bit of an adrenaline junkie in the making and just dying to get strapped onto its trapeze for all the good he'll do.
As for the colour scheme? Well a vanilla Cream appeals but then so does a lighter Ivory white. Don't want to skimp by using hardware store finishes and then Lady Luck must have slipped her phone number into my pocket because that same day two tins of Toplac appeared on the Bay - one Cream and one Ivory - landed them for £16!! I wonder if she'll phone when the spruce mast needs sorting?
So that's where we are at the moment, Of course there're a skip load of other considerations to resolve before we drop her into the Draycote Water shallows: it came with four bouyancy bags two of which are still inflated with 30yr old air! The other two are of questionable integrity being deflated but I haven't even had time to scrub the rodent poop off 'em yet. I know people say don't bother chasing diminishing returns trying to repair old b/bags but here's one for you, has anyone ever tried introducing one of the garage forecourt tyre sealants into one to see if it revives them? Just thinking out loud here but got to be worth a fiver to find out.
Much more to come and of course all advice and critique welcomed.
Dave