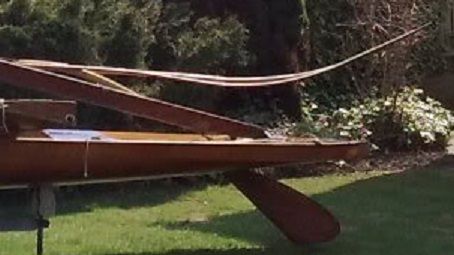 I have discovered woodworm in the original Cow horn tiller extensions for my IC, Torment.
Closer inspection shows that they have in fact undergone many repairs. The old resin/fibreglass has been appied I presume over original varnish, and there is certainly evidence that its adhesion is poor.
What to do?
I will try to repair and strengthen the old set for show, and special use.
I think a new "practice set" made with plastic water pipe will be sensible. These things clearly get trashed quite often and plastic piping I think will be a cheap and robust alternative.
In the mean time I have purchased a 10ft length of 2" x 1" ash from a local furniture maker. It is nice and straight with no knots in it.
In the good old days if you gave a boy a stick he would be happy for a day, but if you gave him a penknife he would be happy for the rest of his life!
Not quite a penknife, but I am making very close acquaintance with my newly re-bladed Surform tool.