As the starter of this thread I feel little responsible for the heat of debate that has ensued and I am a little surprised at the depth of feeling it has stirred up.
I can only assume that the sight of all that Americas Cup publicity and drama on u-tube has left us all feeling little threatened but like Politics and utopia, the two subjects rarely mix well.
I have re-read the original article in more detail and actually what I see is not Blue Sky thinking but more ancient concepts along the idea of Ancient Chinese curses.
These have been discussed before but as a reminder:-
1.) May you live in interesting times...Think what it was like to live in the police state of Queen Elizabeth I or Henry VIII, Or worse still Post Bastille in France, or POst Olympic Lottery funding...Easily worse than the Spanish Inquisition or the Reformation and Cromwell's Republic.
2.) May you come to the attention of Powerful people. Plenty of people and ideas have been b*****d up by committes, NGO's and quango's
3.) May you have (find) what you wish for. Super computers for example.
The article outlines in exquisite detail why Super computers would be such a bad thing.
It actually cries out for a return to old fashioned interface of minds and bodies and points out how drone tracking and smart suits drain the coulor and fun from the whole affair.
I have recently returned from the 10Sq m IC, where my abiding memory is that I have learned not to be afraid of this thoroughbred machine, and discovered that the supportive company of a fleet of like-minded sailors can easily trump the experience of a virtual reality smart phone App.
When I was young board games were all the range...
we had board games like "Helmsman,"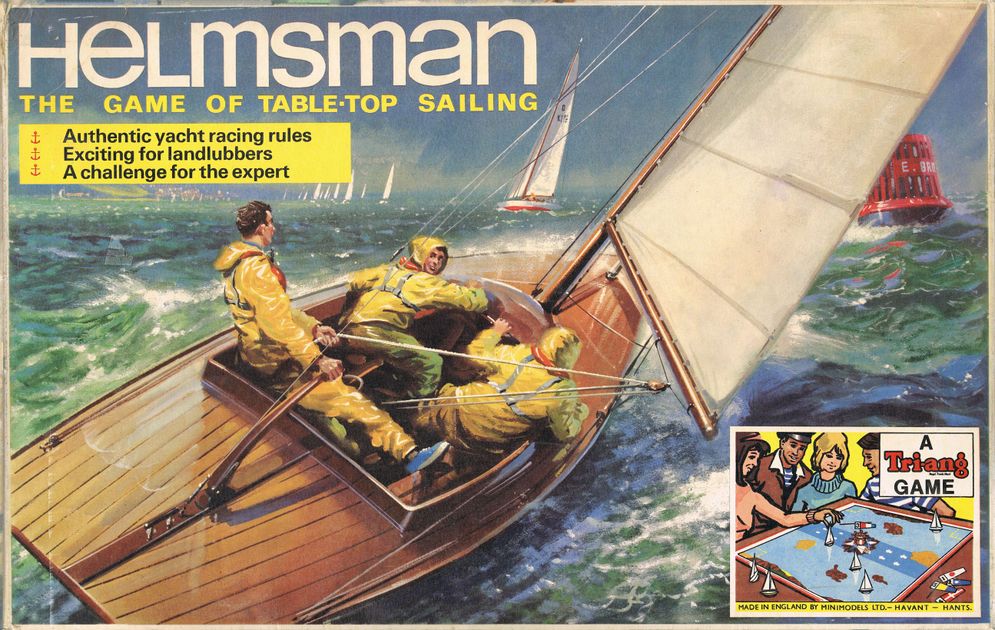 Gipsymoth...
Even "Buccaneer"
These games sought in the simplistic manner of their time to imitate a real experience by tapping into our imagination, to create a genuine virtual reality.
And like so many others, (Including, if this article is to be believed, Computer apps) they fell by the wayside. An attempt by me at the CVRDA rally a couple of years ago at Whitefriars to interest the youth in these games while the adults got drunk, was a spectacular failure. In short we will all have our own way of experiencing our dreams.
So what I say is Lets relax. Keep sailing the boat that floats your dreams and success is a certainty.
The boats that we sail will remain important as ruins are reminders of how nothing lasts forever, and ultimately Foiling and super computing control will go the way of all technology. Has the spectacle of Grand Prix racing been improved by Hamilton, or are the legends of James Hunt and Senna and Lauda still the embodiment of the Golden age.
The great quote from "Syndrome" a villain from one of my favourite cartoons ("The Incredibles") says "If I make
everyone
special, then
NOBODY'S
special!" ...has a ring of truth.
_________________
Michael Brigg